The suction dredge (previously known as the SludgeRat) can be adapted for various rates and volumes of delivery, head pressure and distance to dewatering or transport systems or equipment.
9 Return to Dredging and Solids
The Suction Dredge – Sludge Removal Systems
Our Suction Dredge range is primarily for soft sludge wastewater plants. The suction action in combination with constant movement of the unit through a pond or tank, allows for effective and efficient removal of non-compacted / soft organic sludges.
Resulting effluent is then ready for delivery to the next processing stage at the required rate. For the removal of these organic bio-solids, a single unit is best suited to impoundments typically up to 40,000 square metres in surface area and up to 3 to 4 metres in depth.
Not only is it possible to modify the Suction Dredge on request, but we can also multiply the units in order to suit an even wider range of scenarios.
Some common usage applications include:
Utilities and Water Treatment Plants
Agribusiness – Feedlots, Piggeries and Dairies
Abattoirs
Industry Pulp and Paper Mills
Recreational Water Bodies
Impoundments can remain online and operating during sludge removal
Quiet and environmentally friendly
Suitable for both management and major sludge removal projects
Flexible designs for difficult site conditions
Suitable for a majority of pond linings
Cost effective operations
Easy commissioning and decommissioning
Corrosive resistant materials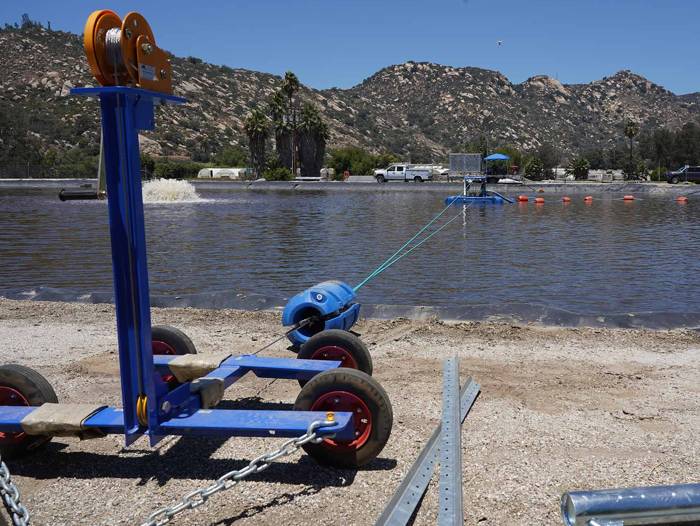 With the utmost safety in mind, control of the unit it maintained via an Operator from a safe land based location.
Remote controlled height adjustment of the primary sludge pump and suction head enables fast and efficient blending of solids and liquids (particularly if coupled). This enables adjustable reactive pumping based on the discharge from the pump.
Performance Metrics and Pricing
A correctly operated unit will usually produce 80 to 120 m3 per hectare of sludge, up to 5% DS (Dry Solids), within a 150 to 200 metre distance on up to a 5 metre vertical head.