Industry: Power Generation
Product: Jetting Dredge
Location: Queensland, Australia
The trick here was that this pond required online sediment management. The power station had some management problems with a thickener and needed constant removal of overflow flyash from the secondary catchment pond.
When the sediment is loose, non-compacted and there is ample water above the sediment, the Jetting Dredge's jetting and suction work well together.
The dredged trench was easily visible when the secondary pond water had been emptied out. This trench was created from only 2 passes of the dredge head. High pressure jets show the ability of the jetting system to break up sediment.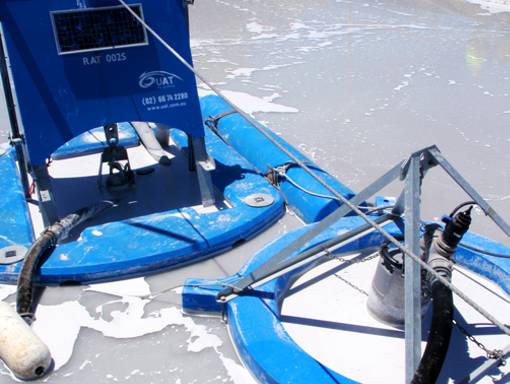 Fly ash fines were unknown, assumed at a depth of 2 metres
Slurry SG = 2.0
Water pH = 7.0 to 8.0
Slurry fines not compacted due to water coverage
Slurry was to be discharged into an adjacent discharge overflow pit only
Approximate distance to the discharge point was 70 metres
The pond water level was held at a point just below the spill over weir. This was critical to the successful use of this style of Jetting Dredge, particularly during the early phase of dredging to allow the suction head system to work above the flyash.
A floating silt curtain was not required to minimise "drift" of resuspended fines and re-entering the water reuse pickup location.